The starting point of the project was an article about a Russian poet Joseph Brodsky in the American Vogue 1973. It was just a year after he had been expelled from the USSR.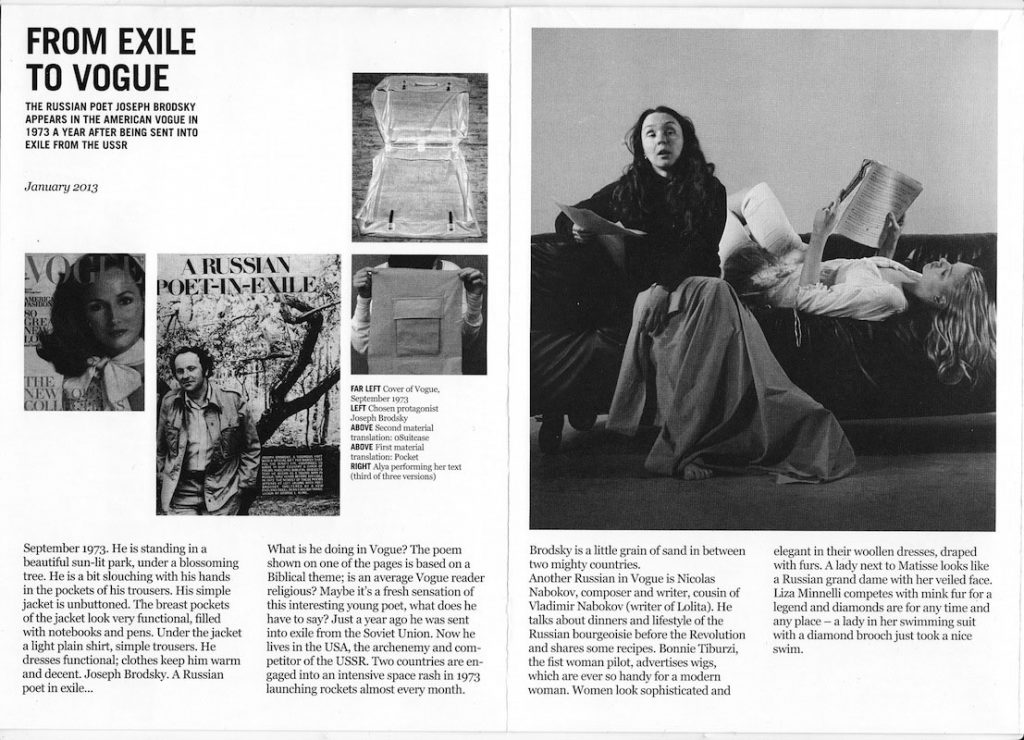 From Exile to Vogue
A Russian poet Joseph Brodsky appears in the American Vogue in 1973 a year after being sent into exile from the USSR
September 1973. He is standing in a beautiful sun-lit park, under a blossoming tree. It's light, calm weather, could easily be spring in a blooming orchard, as the game of light and dark on the leaves makes beautiful flowery patterns. But it must be the end of summer, since it's a photo for the September issue. He is dressed in a light shirt and trousers with a sort of Safari jacket on the top, unbuttoned, open. He is a bit slouching with his hands in the pockets of his trousers. His simple jacket is unbuttoned. Two breast pockets of the jacket look very functional, filled with notebooks and pens. Under the jacket a light plain shirt, simple trousers. He dresses functional; clothes keep him warm and decent. Joseph Brodsky. A Russian poet in exile…

What is he doing in VOGUE? The poem printed next to his photo is based on a Biblical theme; is an average Vogue reader religious? Maybe it's a fresh sensation of this interesting young poet, what does he have to say? Just a year ago he was sent into exile from the Soviet Union. Now he lives in the USA, the archenemy and competitor of the USSR. Two countries are engaged into an intensive space rash in 1973 launching space exploration shuttles almostevery month.

Brodsky is a little grain of sand in between two mighty countries.

Another Russian in the Vogue is Nicolas Nabokov, composer and writer, cousin of Vladimir Nabokov (writer of Lolita). He talks about dinners and lifestyle of Russian bourgeoisie before the revolution and shares some recipes. Bonnie Tiburzi, the fist woman pilot advertises wigs, which are ever so handy for a modern woman. Women look sophisticated and elegant in their woollen dresses, draped with furs. A lady next to Matisse looks like a Russian grand dame with her veiled face. Liza Minnelli competes with mink fur for a legend and diamonds are for any time and any place – a lady in her swimming suit with a diamond brooch just took a nice swim.